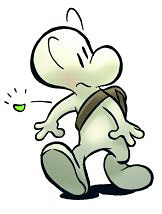 Fone Bone The hero of the series, Fone Bone is the smartest and most courageous of the Bones. He and his cousin Smiley Bone help their other cousin Phoney Bone escape from Boneville after he upset the villagers, and got stuck in the valley. He is passionate about his favorite book, Moby-Dick, and is the most level-headed of the three Bone cousins. He has an unspoken crush on Thorn Harvestar. His name comes from "funny bone," which also inspired the Mad Magazine character Fonebone drawn by Don Martin.
Ad blocker interference detected!
Wikia is a free-to-use site that makes money from advertising. We have a modified experience for viewers using ad blockers

Wikia is not accessible if you've made further modifications. Remove the custom ad blocker rule(s) and the page will load as expected.